Molly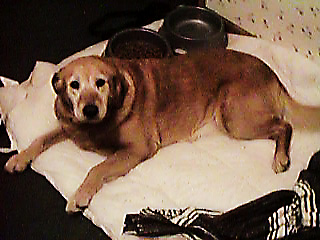 Meet Molly, the newest member of the family!
Her story begins in December 2001, when she was brought to the clinic where Tiff works -- not for an exam or vaccinations, but to be picked up by animal control.
The crime: Digging up flowers
The sentence: Almost certain death
She stayed at the clinic a few days before animal control would pick her up, so Tiff tried to convince just about everyone we know that they should adopt this dog. Someone was interested at one point, and Tiff even gave her a bath so she'd be ready to go to her new home. But the interested someone didn't call or come back. And there were no other takers.
Molly was finally picked up by animal control, after they'd kept her as long as they could at the clinic.
We talked about it on more than one occasion, wondering what to do about this sweet old dog. On January 4, 2002, Tiff picked Molly up from animal control to join our happy throng.
She's adjusting well and enjoying her new leash, er, lease, on life.