The Current Homestead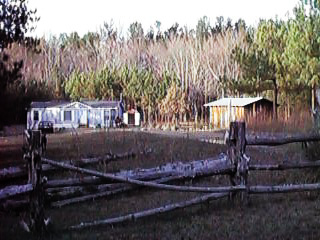 Our mailing address is Summerville, Georgia, but we're really nestled between Rome and Summerville in what's called Silver Hill. The peace and quiet is incredible, compared to living in Rome. And I'm pleased to find there are indeed still stars. I counted over 200 meteors during the Leonid shower of 2001 between 4:00AM and 5:15AM. Doubt I would have spotted near that many closer to Rome.
This is just the kind of place we'd like to settle down, but we're renting for now. Anyone with secluded land like this want to donate some?
Summerville was home to the late Reverend Howard Finster, folk artist and inspiration.