Gunner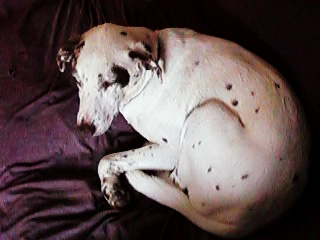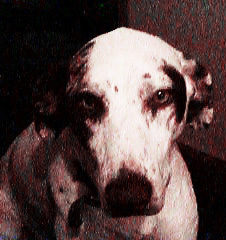 Gunner is Tiff's baby. Before Gunner, she'd had at least three other dogs while we were still in college:
Freedom - who ran off into the woods the day Tiff adopted him thanks to a loose collar and refused to be found
Maitreya/Matty - who scoured the neighborhood for animal carcasses she could eat, and once jumped on top of Tiff's kitchen table
Luna - who loved to eat Tiff's underwear
Tiff just couldn't handle Matty (a Rottweiler/Lab mix?) and Luna (Siberian Husky), so they were sent to her dad's house in the country south of Atlanta. But Tiff still wanted a canine companion!
She spotted an ad in the paper one day that we went to check out. Someone had dumped (as someone all-too-often does) a couple of dogs out in the country near a farm. The farm family was taking care of them, but had plenty of dogs so they wanted to find homes for these two.
Tiff fell in love with Gunner almost at once. The kids had already named her Gunner, so that name stuck, but she's generally been the dog Tiff always wanted. Tiff also thinks she's the most beautiful dog in the world, and I must say she's right about that, or else I might get in trouble.